With a heavy heart i made a trip to one of my favourite 'big nature' places. Big Nature is a place where the vastness of the scene brings the sheer power of nature right in front of me. It's so powerful that it grabs all the self defeating negativity I've dragged down there and blasts a healthy dose of clarity in to fill the space.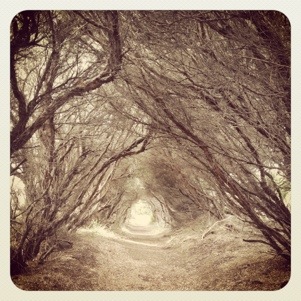 The walk to this place is along a clifftop, through a tunnel that nature made all by herself, down and up a few valleys and hills to be rewarded with a view that just knocks your socks off a couple of hours later. In the tunnel i felt like life was closing in on me. The biggest most beautiful love I'd ever experienced was running away through my fingers and I felt powerless to close the gaps and hold on. I had watched it happen, saw myself tear open the holes for it to fall through, not comprehending what was happening. An owl came out of nowhere and flew the tunnel with me, pausing to look back at me then leading me onwards. Come.. Come.. It will be alright..
When I arrived at the top with the ocean crashing into the little bay below, I let go of the anxiety tying me in knots. Big Nature is commanding like that. The howling salt wind tore off the last feelings of heaviness and I felt lighter as I walked down into the bay. I sat on the rock I like to build cairns on and watched the waves crash up to my feet. I felt like running back to the higher ground but somehow I knew this lesson was about trust. The ocean crashed like a symphony around me only to end in a gentle mirror of beautiful stormy sky, then disappear back to the sea. Trust. Ups and downs are just life. Trust in your power to come out of the downs and the ride isn't so scarey.
So clarity had arrived with the salt and I climbed the hill to go home, so grateful that Big Nature has been my mentor once more.